3rd Paper: Market returns sequences during retirement.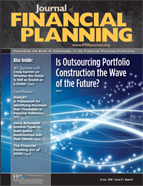 What happens to retirement income when market returns "misbehave" and your portfolio value goes down when you are retired? How does changing your spending increase the ability for your portfolio to continue withdrawals?
Linked, and cover photo, with permission by the Financial Planning Association, Journal of Financial Planning, June 2010, by Larry R Frank Sr and David M. Blanchett.
The Journal of Financial Planning is published by the Financial Planning Association® (FPA®) and all information published within is the sole property of FPA.