7th Paper: Breakeven between Immediate Annuities and Managed Portfolios
"Lifetime Expected Income Breakeven Comparison between SPIAs and Managed Portfolios"
The topic researched is comparing Single Premium Immediate Annuity (SPIA) cash flows to those of a managed portfolio. What are breakeven asset allocations below which a SPIA provides a higher lifetime expected total cash flow? Managed portfolios retain a balance at death while SPIAs have none. How does the cash flow breakeven comparison change when that balance is, or is not, considered? Does age matter in the decision to switch from a managed portfolio to a SPIA? Is there a different conclusion if different tables are used (Social Security Table "General Population" vs Annuity 2000 Table ("Healthy Population"))? How do good vs median vs poor markets affect the breakeven comparison? How do fees affected the comparison? Can the Annual Payout Rate (APR) of a SPIA be useful in the decision making process?
Note: The process described here could also be used to evaluate pension choices between a pension vs lump sum payout.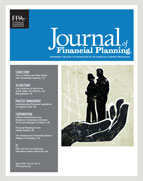 Also distributed in